Manseikan Aikido founder - Kanshu Sunadomari (1923 - 2010)
He is a Japanese martial artist and a direct disciple of the Founder of Aikido, Morihei Ueshiba.
Taking the opportunity by the demonstration of Aikido performed in Kumamoto City in November 1953, he devoted himself building a basis for Aikido in Kyushu Area at the hands of lots of people who supported him. And even though he was 37 years old, he was awarded Aikido 9 Dan rank by Morihei Ueshiba in 1961.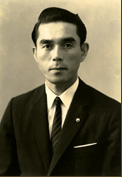 On Kanshu Sunadomari's own Dojo "Manseikan", he dedicated his whole life as a martial artist to the only goal, embodying the spirit "Aiki is Love" left by the Founder of Aikido, Morihei Ueshiba.
And after the hard time, he uniquely achieved the mental world that the Founder taught as "Kokyu Ryoku" (breath power) of Manseikan Aikido".